7 Slow Cooker Pork Recipes
Due to the popularity of Slow Cooker Chicken, I'd like to follow up now with pork, which is another slow cooker favorite. Pork is a staple in our house, especially when we're having a large group of dinner guests. It's a budget-friendly choice that becomes tender and juicy when cooked slowly. Whether you're tired of everything tasting like chicken, or you just need a change of pace, add these slow cooker pork recipes to your meal plan today.

Slow Cooker Pork with Greens and Beans
My kids never complain about eating both beans and greens in one meal when they're served alongside rich, slow-cooked pork.
CALORIES: 283.6 | FAT: 15.6g | PROTEIN: 25.8g | CARBS: 10.7g | FIBER: 3.4g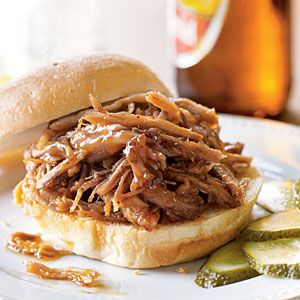 Slow Cooker BBQ Pulled Pork Roast
Enjoy pulled pork with a tangy BBQ sauce.
CALORIES: 298.2 | FAT: 11.9g | PROTEIN: 32.4g | CARBS: 11.7g | FIBER: 0.7g


Slow Cooker Pork Roast or Chops
A family favorite that takes no time at all--except for in the slow cooker!
CALORIES: 273.5 | FAT: 9.5g | PROTEIN: 31.6g | CARBS: 13.8g | FIBER: 1.5g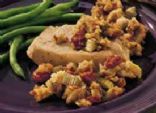 Slow Cooker Pork Chops with Apple-Cranberry Stuffing
CALORIES: 122.2 | FAT: 2g | PROTEIN: 5.8g | CARBS: 20.5g | FIBER: 1.9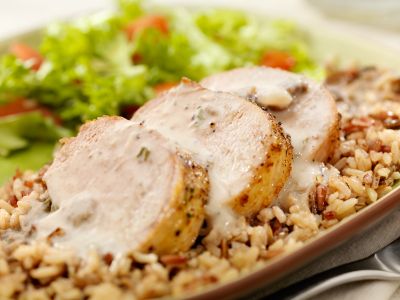 Slow Cooker Pork Loin with Creamy Sauce
CALORIES: 276.2 | FAT: 9.3g | PROTEIN: 37.5g | CARBS: 8.1g | FIBER: 1g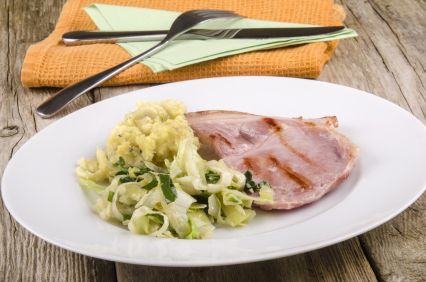 Slow Cooker Cabbage with Apples and Pork Roast
Get extra nutrition and fiber from the cabbage and apples.
CALORIES: 352.2 | FAT: 8.2g | PROTEIN: 37.9g | CARBS: 35.6g | FIBER: 5.6g

Slow Cooker Island Pork Roast
Get a taste of summer with this fun recipe. Serve with brown rice.
CALORIES: 391 | FAT: 20.6g | PROTEIN: 39.3g | CARBS: 10.6g | FIBER: 1.4g
Do you have a favorite slow-cooker pork recipe? Which of these looks best to you?
Each week we share a themed collection of our favorite SparkRecipes.
Browse the entire collection of "What's for Dinner?" blogs
.
Want more
healthy recipes
from Chef Meg and fellow SparkPeople members? Be sure to subscribe to SparkPeople's Recipe of the Day email.
Click here to sign up
!
Did you know SparkRecipes is now on Facebook?
Click here to "Like" us
!
Like this blog? Then you'll love "
The SparkPeople Cookbook: Love Your Food, Lose the Weight
."



You will earn

3

SparkPoints

Like what you read? Learn more

about SparkPeople,

or

sign up

for your free account today!