DailySpark Most Recent Post
Autumn is here! Unfortunately, with the darker days and colder temperatures, autumn also ushers in an unpleasant side effect for a large number of people: Seasonal Affective Disorder, otherwise known as SAD.
I have a mild form of SAD and know that it impacts me in a few ways, so I'm on a mission to help others since many people don't even realize they have this issue--and even those who do might not know there are simple treatment options. Let's see how many people we can help together!
Read More ›
When you're not feeling like yourself, it's good to have a team of friends and family to help. But where do you turn when you need support
and
expertise? Many people don't know that some health insurance plans offer up personal health professionals to help you navigate the healthcare space and design a plan to become your healthiest, happiest self. These experts are available to work one-on-one with you to establish a baseline and set realistic goals. They can provide personalized guidance, education and resources. Additionally, they will follow up with you based on your personal needs and preferences--all included in your health insurance package.
Read More ›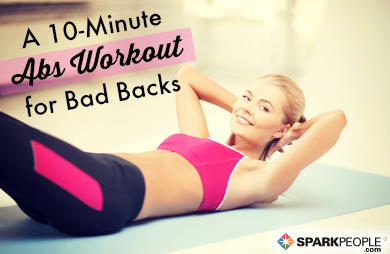 If traditional abs moves like crunches and twists bother your back, don't suffer! There are plenty of ways to work your abs without straining your back that are just as (and sometimes more!) effective. Join me (and my puppy Peanut) for this full-length workout routine that is designed for those who experience back pain during floor abdominal exercises.
All you'll need for this workout is a sturdy chair and a single light dumbbell (or similar weighted object).
Read More ›
I never imagined that a Lebron James TV commercial could make me well up with tears...
Non-sports fans: please give me a chance to show how this is relevant for all of us :)
This past Thursday night, my boys and I watched Lebron's first game back with his hometown Cleveland Cavaliers. Just before the game, a commercial started playing. As the concept in the commercial unfolded, I immediately thought, "This is one of the best commercials ever." I'm sure millions of other people had a similar thought at the same time.
By the next morning, I realized I had to scrap the original idea I had for today's blog and instead write about this commercial (my editor doesn't know that yet -- haha).
Even if you have already seen this Nike TV commercial, watch it again from a different perspective.
Read More ›
Happy Halloween! We hope you're planning to enjoy some candy (in moderation!) today. What's your favorite Halloween treat to splurge on? Take the poll below, and then check out some of our best resources to help you get through the day feeling satisfied--but not stuffed like a pinata!
Read More ›
You can read hundreds of nutrition articles and talk about getting healthier until you're blue in the face, but all the knowledge in the world won't do you any good unless you've got the motivation to go with it. And even though getting motivated might sound like the easy part, it's actually the trickiest! In our world of instant gratification and convenience, it can be all too easy to plop down on the couch instead of hitting the gym, or to grab takeout in favor of cooking a healthy dinner. To help us answer the million-dollar question of how to get and stay motivated, we asked two
Humana Health Coaches
to give us their top ten tips for setting—and reaching—any goal you set your mind to.
Read More ›